Why is FFmpeg library needed?
Audacity software can provide various audio formats, such as compressed and uncompressed. These audio formats are WAV, AIFF, Ogg, FLAC, MP2, etc. To get more of a range of audio formats from FFmpeg library, the import-export library is available. Thus, you can get a large number of audio formats any of your choices using this library in Audacity. This library provides formats such as MA4, AC3, AMR, and AMA. It is not available in Audacity by default hence, you need to install it externally.
How to install FFmpeg library?
The FFmpeg library will let Audacity provide a larger number of audio formats for the import and export of audio files. Due to software patents, the FFmpeg library is not available in Audacity; you can download from third party and then install with Audacity. It is free of cost, and no license fee is require to download FFmpeg import-export library.
If you have installed FFmpeg, which is compatible with your version of Audacity software, then you need to provide it in System Path.
Audacity uses the FFmpeg library available in the system, unless it is available in the libraries' preferences not to do so. In libraries' preferences, you can add the FFmpeg file you downloaded externally, then Audacity will use that version.
Note: Remember that your FFmpeg library should be compatible with Audacity
To set-up FFmpeg library, Audacity needs to restore the default plugin's setting preferences.
Simply re-installing might not work for reset Audacity. The data of your preferences and plugins of your audacity software are stored in a separate folder known as Appdata>Roaming Folder>Audacity is your current user folder.
In C drive, your user folder contains a folder with your username.
The directory named Appdata contains the Roaming folder, which contains the Audacity folder that has all the preferences information.
You have to follow the following steps to reset your Audacity settings.
Initially, exit the audacity software. Go to the following path C:/ User/ Username/ Appdata/ Roaming/ Audacity. You have to delete this Audacity folder to clear all the preferences, as well as plugins.
You can also directly search for the audacity folder from your windows search bar or in the search bar present in C drive.
If you just want to clear the preferences and leave the plugins as it is, then delete the file named audacity.cfg inside the audacity folder searched above.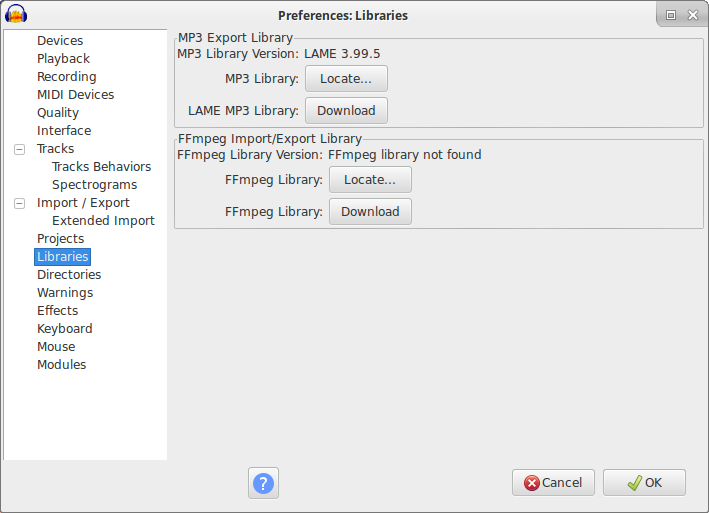 You can also just clear your plugins settings by deleting the pluginregistry.cfg file. This is because pluginsettings.cfg file and Plug-Ins folder reside inside the audacity folder in the roaming folder. Now, you have to restart the Audacity software. Click here to learn more.
Now to set up FFmpeg, go to Libraries Preferences and click on the locate button near the FFmpeg Library. If the Library is already installed, it will show a success message. And if it does not show any success message, you will have to detect it manually. In Locate FFmpeg click the browse option to locate the file you downloaded externally on the audacity software. Select avformat-55.dll file and close preferences. FFmpeg is now set up in your Audacity software.
Read more articles